Now listening to:
Bonnie Prince Billy - Wouldn't That Be Something


---
Upcoming reviews:
The Boxer Rebellion - Promises
Paul Brady - Spirits Colliding
The Brandos - Over the Border


---
Upcoming releases:
11/10 Elvis Costello - Look Now
11/10 John Grant - Love is Magic
12/10 Anouk - Wen d'r Maar Aan
12/10 Thomas Dybdahl - All These Things
19/10 Tamino - Amir
19/10 Cloud Nothings - Last Building Burning
19/10 Greta van Fleet - Anthem of the Peacefull...
19/10 Will Oldham - Songs of Love & Horror
26/10 Thom Yorke - Suspiria
26/01 Black Box Revelation - Tattoed Smiles
02/11 Steven Wilson - Home Invasion
09/11 Muse - Simulation Theory


---
Latest buys/gifts:
The Breeders - Last Splash
Alamo Race Track - Swan Lake
The Breeders - Do You Love Me Now
The Breeders - Cannonball
Black Atlantic - Send This Home


---
Upcoming shows:
12/10
20/10
27/10
03/11
Broeder Dieleman [Walhalla, Rotterdam]
Frank Turner [013, Tilburg]
Saint Agnes [V11, Rotterdam]
Het Zesde Metaal [Gebouw-T, Bergen op Zoom]
---
Recently visited shows:
20 &
21/09

27/06
22/04
14/04
09/03
Ecca Vandal, Ocean Alley, Cleopatrick, Tamino, LIFE, Faces on TV, Royaume, Milkywhale, Christof van der Ven, Ane Brun
Nine Inch Nails, Black Moth Super Rainbow
Dries
Flip & de Noormannen
Oysterband

---
9 of my personal favorites:
Anywhen - The Opiates
Afghan Whigs - Gentlemen
Deep Purple - Made in Japan
Ane Brun - My Temporary Dive
Madrugada - The Deep End
Kashmir - No Balance Palace
Noir Desir - Des Visages des Figures
Band of Horses - Cease to Begin
Black Atlantic - Darkling, I Listen


---
Currently reading:
De Beste Muziek Verhalen van 1945 tot Nu
samengesteld en ingeleid door Leon Verdonschot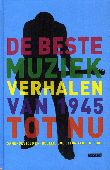 ---
Websites:
Best Kept Secret Festival
Breda Barst
Cross-Linx
Grasnapolsky
Haldern Pop Festival
Incubate
Metropolis
Naked Song Festival
Totaalfestival Bladel
3 voor 12 luisterpaal
Alt*Country*NL
---
Clubs:
Willem II, Den Bosch
Roepaen, Ottersum
Mezz, Breda
013, Tilburg
Effenaar, Eindhoven
Rotown, Rotterdam


---
Complete CD list
download in Excel format




Bonnie Prince Billy
Best Troubadour

posted [09.10.2018]
released [2017]
[sub]genre: country

rating:





Comment:

Bonnie Prince Billy - though a mysterious man - always made a modest impression on me. So, he made me frown when he named his latest release Best Troubadour. If he indeed was referring to himself, I might've needed to reconsider my personal opinion on the man. Best Troubadour is not about Bonnie Prince Billy, but his salute to one of the last country music outlaws, Merle Haggard, who died on his 79th birthday just a year before. Billy had been working on a live set of Haggard songs as early as 2015. So a posthumus tribute was never the intention. Though Billy chose songs from Haggard's entire 50 year spanning career, he shows specific interest in the 1980s material. Song undervalued due to the post-outlaw production fashion of the time, but next level songwriting. Bonnie Prince Billies lo-fi indie folk arrangements showcase the essence of their beauty. Hazy female vocals and David Rawlins-like guitar playing, a saxophone that reminds me of Van Morrison and flute overdubs that somehow tend to make me nervous all contribute to my curiousity for the man Haggard, a rebel by birth, trouble his middle name. A fight the system kinda guy, who bought himself out of a record deal when the company refused to release Me and Cripple Soldiers Give a Damn. The man who called Gram Parsons a pussy; a good writer, but just a long haired kid, when withdrawing from producing his first solo album. Okay, calling Gram Parsons a wooz made me frown once more, but him performing Townes van Zandt and Blaze Foley songs made up for that. Bonnie Prince Billy does him - and Blaze Foley - proud. Salute!
The Fugitive
I'm Always on a Mountain when I Fall
The Day the Rains Came
Haggard (Like I've Never Been Before)
I Always Get Lucky With You
Leonard
My Old Pal
Roses in the Winter
Some of Us Fly
Wouldn't That Be Something
Pray
That's The Way Love Goes
Nobody's Darling
What I Hate (exerpt)
I Am What I Am
If I Could Only Fly


Bohren & der Club of Gore
Beileid EP

posted [20.08.2018]
released [2011]
[sub]genre: progressive pop

rating:





Comment:

Imagine a late October evening. Trees shed their leaves. It's dark. It has just stopped raining. Lanterns reflect their light in puddles. You walk towards the station, last train home. Home, where no one awaits you. Bohren on your headphones. You feel as alone as lonely will ever get.

It's 1988 when Benning, Gass, Rodenberg and Henseleit start playing together in hardcore bands such as 7 Inch Boots and Chronical Diarrhoea. A common love for anything extreme like grindcore, hardcore, death and doom metal lays the foundation under what Bohren in 1992 would eventually invent as doom ridden jazz or more precise an unholy ambient mixture of slow jazz ballads, Black Sabbath doom and down-tuned Autopsy sounds. In 1993 the band added & der Club of Gore to their name as a reference to the Dutch band Gore, who inspired the men to play instrumental music. As Reiner Henseleit left Bohren in 1996 and Christoph Clöser joined in 1997, saxophone, piano and vibraphone replaced guitar. Beileid is as typical a Bohren & der Club of Gore recording as it isn't. First of all it's spooky, it's gloomy, it's a film noir soundtrack; it makes me crave for autumn; it makes me want to smoke elegantly. And most of Bohren & der Club of Gore releases have some sort of morbid humour to them. In this instance the artwork and the title of the opening track. So you think Queen's Who Wants To Live Forever was a tragic song... On the other hand it also features their first non-instrumental track. A bizarre make-over of Warlocks 1985 metal anthem Catch My Heart. The band recruited Faith No More's Mike Patton - who is also known for his experimental, improvisational, avant-garde, mathcore side projects - to lay down the vocals. Bohren & der Club of Gore ft Mike Patton's version of the song doesn't resemble the original in any way. Judge for yourself.

Although the band tours regularly and has been visiting the Netherlands lately I never attended a show. Mainly because there's no one who wants to join me. Everyone's sort of afraid. I guess it'll happen, one day, late October.
Zombies Never Die (Blues)
Catch My Heart
Beileid


Blue Rodeo
Diamond Mine

posted [31.07.2018]
released [1989]
[sub]genre: Canadiana

rating:





Comment:

If The Band and Neil Young were refused competing, Blue Rodeo may only be tailgazing Cowboy Junkies at the biggest name in Canadian country rock election. In business for over 30 years, having recorded 15 full-length albums, sold over 4 million records and won 11 Juno awards, Blue Rodeo earned that 2012 spot in the Canadian Music Hall of Fame. Strangely enough their Wikipedia page hasn't that much to tell. Formed in 1984 by highschool friends Cuddy and Keelor, the band soon gained a following in the Toronto area. Not just fans but also friends. As a result Keelor's then girlfriend appeared in the music video Try that rocketed to no 1. Thus expectations were high on Blue Rodeo's second release Diamond Mine. Remember it's late 80s. Oversized selfpity ("can't stand the sight of myself, lying in bed all day with the curtains drawn") in the piano ballads House of Dreams and Girl of Mine affirm the timeframe. Bob Wiseman's intentions on adding jazzy interludes (track 1, 4, 9) are unclear. But apart from that Cuddy and Keelor show great songwriting craftmanship. Socially engaged and politically enraged ("I hope that I never find what you call good conscience or peace of mind; as another man dies for God and country"), the boys aren't dodging a fucked up romance ("well I thought she was mine, but she was just passing time"). A great psychedelic live feel on the title track, a set of sing-a-longs with anthemic ambitions and a song that could've been Steve Earle writing (One Day) complete the disc. With the ballads and interludes in the bin an 11 or 12 track wrap up would've nailed it just right.
Swells
God and Country
How Long
Blues Piano
Love and Understanding
Girl of Mine
Diamond Mine
Now and Forever
Percussive Piano
House of Dreams
Nice Try
Fall in Line
One Day
Florida
Fuse
The Ballad of the Dime Store Greaser and the Blonde Mona Lisa